In this blog post I'll be going over researching today's current trends of art in 2017. I will also talking about my experiences with modern art trends.
Popping Colors
When Artists start using these bright hues, it helps the illustration seen as more exciting and interesting. These designs are more likely to catch the viewer's eyes, because these color schemes gives them energetic vibes. Designers explained that using only muted colors shows your audience that you are not willing to step out of your comfort zone.  People may also see these muted hues as lifeless and lackluster. Viewers want to see artists who are not afraid to try something different.
Source   https://www.pinterest.com/pin/105623553732685453
Geometric Shapes
These design layouts have been around for quite some time. Geometric patterns will inspire the artist to have more creative freedom, producing endless possibilities of designs with shapes. If you also want to amaze your audience, try including typography and bright colors in your geometric design. By using more than one trend in your design, people will be interested on what you are presenting. This type of style isn't losing its popularity and will most likely still carry on.
Source https://theultralinx.com/2014/06/30-brilliant-examples-geometric-designs/
Bold Typography
Certain type of text will catch the viewer's attention, especially if they are enormous and bold.  A designer who uses typography excellently well is Paula Scher. The reason why people enjoy her designs is because she uses her talent to be able to make text create powerful messages in various ways. If you are seeking for creative inspiration for text design, Paula Scher's works are great examples to look at for ideas.
source https://www.pinterest.com/pin/279926933066284469
Original Photos
Using stock images in your design will not impress your audience since this has been done multiple times. People are tired of designers using stock images because they are more likely expected and it's not exciting.  For example if you are running a business company website, try taking pictures of the office, the staff, and the building. This could even apply to a designer who's working on a Photoshop project for their art account, their design will feel like something new.
Detailed and Disordered
These types of graphic designs are seen as going against the rules of peaceful layouts. Viewers will enjoy theses designs because they are creative and daring of the artist to take risks. The designer will also be seen as someone who has no limit when it comes to their imagination. These ideas will inspire you come up with unique designs without the feeling of restrictions.
source https://blogs.adobe.com/creativecloud/artist-spotlight-jenue/
Duotones
This type of style involves two colors combining together on a design, and are often contrasting from each other. When designers use this style, they try to make the hues pop out in the image.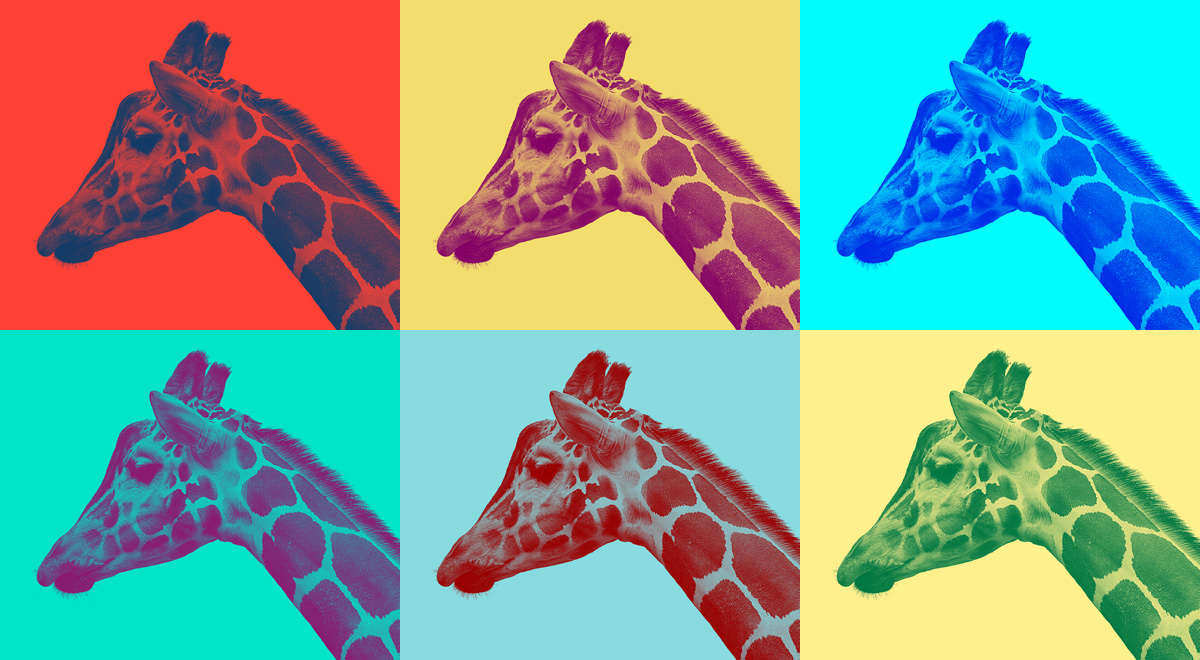 source https://audiotheme.com/blog/how-to-use-gradient-maps-to-create-a-cool-duotone-effect-in-photoshop/
In my experience I have consume these types of trends because they are eye catching and interesting.  For example the geometric shapes bedspreads, typography posters, and popping color design shirts.  These styles stand out to me because of the creativity that was put into it the designs. My final thoughts are is that some of us do consume modern art trends, even if we don't realize it.
resources; https://graphicmama.com/blog/graphic-design-trends/, https://venngage.com/blog/graphic-design-trends/